Juvederm® in Virginia Beach, VA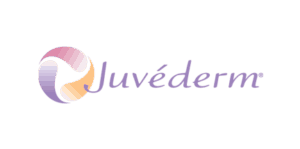 Juvederm® is a long-lasting, safe filler for patients who wish for natural-looking results. At Plastic Surgery of Virginia Beach, we use Juvederm® to achieve more youthful contours and eliminate pesky lines. Board-certified plastic surgeon Dr. Kevin Bounds offers this effective service to residents of Norfolk, Chesapeake, Newport News and surrounding communities in Virginia. Schedule a consultation for Juvederm® today!
Why Choose Juvederm®?
To understand which filler is right for you, we recommend considering your main reasons for seeking MedSpa treatment. Do you have deep creases or folds in the face? Is there a lack of volume in your cheeks? Are your eyes looking puffy or constantly tired? Juvederm® is an effective choice for treating fine lines, wrinkles, and creases by increasing the volume in the skin.
What is Juvederm®?
Juvederm® is a dermatological filler which increases the volume in the treatment area to eliminate overlying wrinkles, lines, and creases. Juvederm® is safe, effective, and uses hyaluronic acid for maximal effectiveness. Hyaluronic acid exists naturally in the skin and helps to promote elasticity in the face.
Other Types of Juvederm ®
Juvederm Volbella™
Juvederm® Volbella is another of the newest additions to the family of Juvederm® dermal fillers. This filler targets thin, lackluster lips and delivers hyaluronic acid (HA) to the target areas to enhance the volume of the lips. Thinning lips can occur as we age, causing the corners to droop or the mouth to lose its sensuality. Juvederm Volbella™ is FDA-approved to reduce wrinkles around the mouth and deliver thicker, fuller lips to men and women over the age of 21.This filler has no downtime and results that can last up to year with proper care.
Juvederm Vollure™
As we age, our skin begins to reflect a loss of elasticity and tightness, especially in the facial region. This causes wrinkles and frown lines to form as well as skin to sag, making you appear aged or distressed. Juvederm Vollure™ XC is the newest injectable filler treatment to be approved by the FDA for the treatment of moderate to severe wrinkles, laugh lines, and nasolabial folds in adults over the age of 21. This injectable gel uses naturally occurring,hyaluronic acid (HA), to draw moisture to the target areas, which helps boost volume and firmness as well as tightens and smoothens the skin. The results typically last up to 18 months and can be seen almost immediately following your first treatment.
How is Juvederm® Administered?
Injectable fillers are administered by Dr. Bounds in the most convenient, comfortable way possible. This is a minimally invasive procedure, using only a fine needle, so no sedative or anesthetic is required. Dr. Bounds administers the Juvederm® solution using the fine syringe to your most troublesome areas on the face. There is no downtime or recovery associated with this procedure.
Who is a Candidate for Juvederm®?
Juvederm® is most effective for individuals who are unhappy with lines or wrinkles in the face. Juvederm® is an effective treatment to eliminate frown lines, crow's feet, and marionette lines on the face. If you wish to look younger by getting rid of lines and wrinkles, Juvederm® injections may be right for you. To further discuss your candidacy, schedule a consultation with Dr. Bounds.
Dr. Bounds will teach you about the procedure and answer any questions you may have before giving a full evaluation. Dr. Bounds does not believe in pressuring anyone to undergo a procedure and will make sure you will benefit from the procedure before proceeding. Patients always come first at Plastic Surgery of Virginia Beach.
How Much Does Juvederm® Cost in Virginia Beach, VA?
Depending on the area being treated and the number of units needed, the cost of Juvederm® can vary. On all MedSpa procedures, we offer CareCredit® and APLPHAEON financing for your convenience. For more information, visit our financing page.
Check out our Current Special on Juvederm: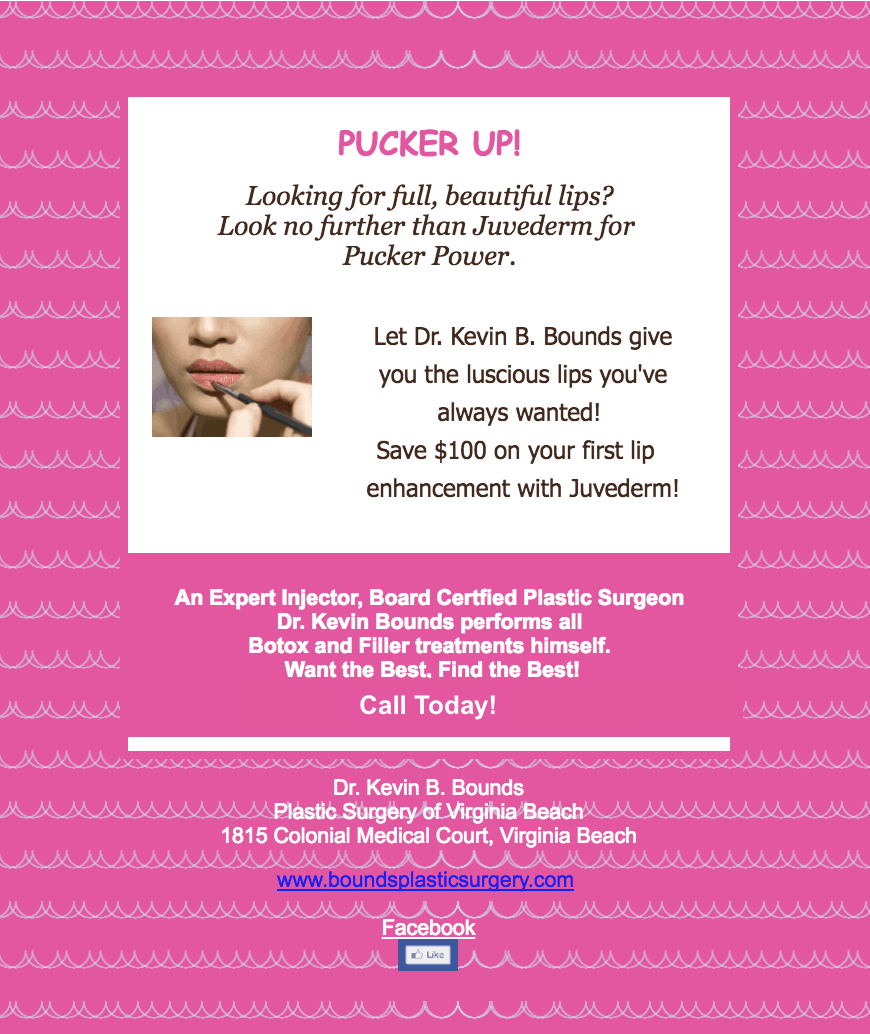 Ready to look like a more youthful you again? Schedule your Juvederm® consultation today with board-certified plastic surgeon Dr. Kevin Bounds. Plastic Surgery of Virginia Beach offers effective MedSpa procedures to residents of Norfolk, Chesapeake, Newport News and surrounding communities in Virginia.